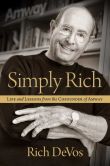 Simply Rich
By Rich DeVos
Howard
Retail Price $25.00
Amazon Price: $18.30
Book Description: 
In this definitive autobiography, Rich DeVos reflects on work, faith, family, and the core values he's held on to, from his humble, Christian upbringing through his enormous success as cofounder of one of the world's largest businesses: Amway.
A prominent businessman, self-made billionaire, philanthropist, worldwide speaker, bestselling author, family man, and devout Christian—few people embody the heart of the American entrepreneurial spirit as plainly as Rich DeVos. He not only helped create one of the world's biggest companies— Amway—but he did it from the ground up, with little but his deep faith in God to guide his decisions and keep his hopes alive. Now, following on the success of DeVos's bestselling books about the world of business, he reveals his personal story for the first time ever. Simply Rich is a candid telling of his journey from rags to riches, from a small start-up business to giant success, and from doubts to dreams come true.
Born to second-generation Dutch immigrants in rural Michigan during the Depression, DeVos learned early on the importance of leadership as well as partnership. While still in school, he met a classmate and neighbor, Jay Van Andel, who became his best friend and eventually his business partner. A lasting friendship sustained their fledgling business, which grew into the international success of Amway. In addition to stories of his business success, DeVos shares candidly about his marriage and family, his experiences as a motivational speaker and author, his ownership of the NBA's Orlando Magic, and his philanthropic, religious, and political endeavors.
Inspiring, fascinating, and full of heart, Simply Rich is the astonishing rags-to-riches story that few can tell. Through his amazing accomplishments as both a businessman and faithful, generous soul, DeVos reveals the true meaning of success.
Review
Ever wondered about Amway and how it got started? What is the secret of its success? And who is the man behind the concept? In this deceptively short book, the author talks about his life story and the story of this business.
It is a fascinating American story, a story of struggling up from hard times, building a business with impressive perseverance and personal commitment, and most important, a story of principles. For this is a company that eschews contemporary business fads and slogans, treats its people like valued assets, prizes and practices loyalty, and believes that Christianity should be lived, not just preached.
Although it is a short book, it is intense, and it is challenging, because it makes you ask yourself questions. It is not the light reading it appears to be. It forces you to look at your own values, loyalty, and commitment. It is well worth reading.
~Reviewed by Dave H.