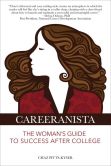 Book Description: 
In Careeranista, Chaz Pitts-Kyser provides candid, empowering, and inspirational advice to put you on a clear path to success as a young professional. Whether you're preparing to graduate or already striving to make a name for yourself, this comprehensive guide offers the insight you need to start creating the career and life you envision. Topics include: Mapping Out Your Future, Job Searching in a Tough Job Market, Acing the Interview, Building a Positive Professional Image, Handling Conflicts With Co-Workers, Overcoming Self-Doubt & Fear of Failure, Getting Your Finances in Check and Succeeding in Corporate America. Interwoven throughout Careeranista's 32 chapters are the author's own stories, humorously written and packed with life lessons. Adding to the book's depth are personal essays by both seasoned professionals and rising stars. Dozens of tips from career experts and executives further give you the knowledge and confidence needed to thrive on your journey as a newly minted Careeranista.
Review
This book has been all that I hoped for and more. The author shares her own stories of successes and failures that the reader can relate to.  It is an informative, yet easy read and you might find it so helpful that you will want to read it again or use it as a reference at a later date.  The book was really enlightening and to-the-point. I would recommend for women looking get her career on track and to rise up from their failures.  I found it very inspirational!
~Reviewed by Kathy R.