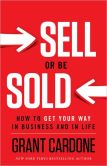 Sell or Be Sold
By Grant Cardone
Greenleaf Book Group
Retail Price $24.99
Amazon Price: $16.46
Book Description: 
Whether it's selling your company's product in the boardroom or selling yourself on eating healthy, everything in life can—and should—be treated as a sale. And as sales expert Grant Cardone explains, knowing the principles of selling is a prerequisite for success of any kind.In Sell or Be Sold, Cardone breaks down the techniques and approaches necessary to master the art of selling in any avenue. You will learn how to handle rejection, turn around negative situations, shorten sales cycles, and guarantee yourself greatness. Cardone will also teach you the success essentials of
•    Selling in a bad economy
•    Overcoming call reluctance
•    Filling your pipeline with new business
•    Staying positive, despite rejection
With the experience of a seasoned sales vet at the helm, Sell or Be Sold will change the way you perceive the sale—and life.
Review
This is a nice reminder about taking action and continuing to be active.  The author reminds us that regardless of what your plan of action or your goal is, step one is always to get committed/sold. If you can't be sold on your idea, you should cut your losses and move onto something else.  Cardone believes that we are all "in sales" in one way or another, whether it is product or an idea.  He is obviously an aggressive salesman and a person that makes things happen. He sure lit a fire under me!
~Reviewed by Grey C.