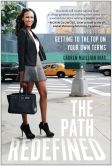 Book Description: 
Success is not about climbing over colleagues or climbing the corporate ladder; it's about the ability to rise to your full potential and tackle challenges with enthusiasm. In today's career climate, you have to be innovative and ambitious and capitalize on your individual talents.
The Path Redefined: Getting to the Top on Your Own Terms shows you how to achieve the highest levels of success and satisfaction in business and in life by tapping into the essence of what makes you unique. You can reach the pinnacle of your work and personal lives, faster and more independently than you ever imagined possible—on your own terms.
In The Path Redefined, serial entrepreneur Lauren Maillian Bias shares the lessons and tactics that rocketed her to the top of three completely different fields—all before she reached the age of 30. Using her extensive experience as a successful business owner, venture capitalist, and startup advisor, Lauren explains in easy-to-understand terms how to reinvent yourself and plan for success, all while embracing failure but learning from your mistakes.
Including advice and lessons from some of the nation's most successful entrepreneurs and business executives, The Path Redefined will become an indispensable tool to maximize your full potential without compromising who you truly are.
Review
This book was both inspirational and something most women in business can relate to.  I have gained great knowledge reading it and plan to share the learned experience with others. The author gives a refreshing take on how to be enterprising and bold as an entrepreneur. Whether you're considering entrepreneurship or trying to re-energize your career, this book will provide you with a healthy dose of motivation.
~Reviewed by Deb M.